!szkaфander @ Budapest Pride Kamion
Saturday, 7th July 2012., 4pm [16h] - Start from Hősök tere (m1)
The dance-friendly queer truck among Andrássy út
DJs: !A & Legars
No dress code | No basement | No excuse!
Facebook event: !szkafander Avenue
Facebook page: SzkafanderCrew
HU
Persze, igen mókás tét nélkül csillogni a pinceklubokban, de nem szégyen megbújni a négy fal között, miközben az lenne a dolgunk, hogy a ragyogást fényes nappal is vállaljuk? Törj ki az egérlyukból, a !szkaфander-kamion már vár.

EN
Indeed, shining in cave parties is quite funny, but isn't it a shame to stay in the closet while our business is to glitter in the sunshine, too? Break out from the rabbit hole, the !szkaфander truck is awaiting for you.

F
Certes, briller dans les clubs souterrains est assez marrant, mais n'est-il pas honteux de rester entre les quatre murs quand notre tâche serait d'assumer la brillance en plein jour aussi? Emerge du trou de souris, le camion du !szkaфander t'attend!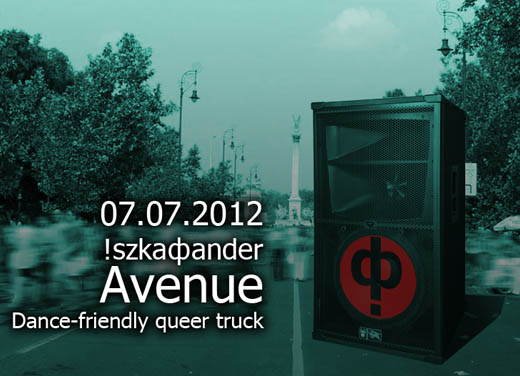 Regular Pride parties:

Men's Pride at Friday | Facebook event: Magic Night

Pride Official Closing party at Saturday | Facebook event: Rainbow Party 2012